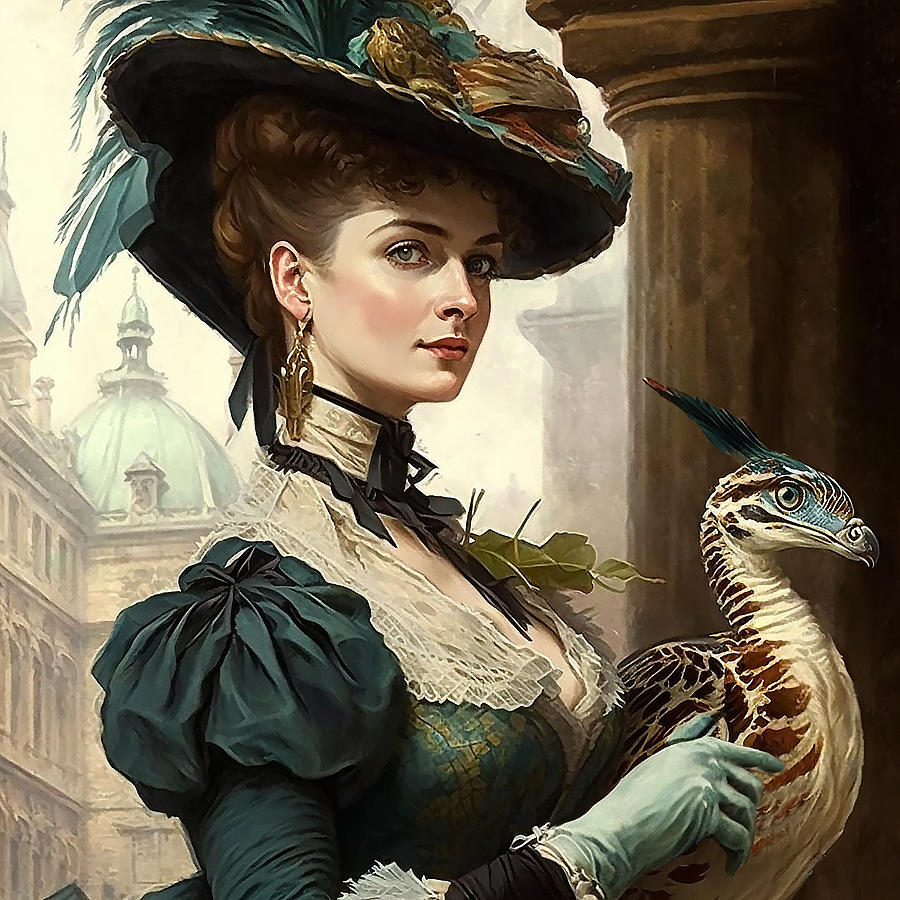 Title
A Lady and Her Raptor
Medium
Digital Art - Digital
Description
In the heart of 1800s London, a beautiful vintage painting hung in the parlor of an affluent Victorian family. The subject of the painting was the family's matriarch, a poised and elegant woman dressed in a striking teal dress. She held in her arms a curious creature, a velociraptor with feathers, which was quite uncommon for the time period.

The painting was the talk of high society, as the combination of a well-to-do woman and a velociraptor was considered quite unusual. Many of the upper class were fascinated by the unique pairing, and would often gather in the parlor to admire the painting and speculate about the story behind it. Some thought that the velociraptor may have been a beloved pet of the woman, while others believed it to be a symbol of her adventurous spirit.

Despite the speculation, the true story behind the painting remained a mystery. The woman in the painting passed away several years later, and the painting was passed down through the generations of her family. It became a cherished heirloom, reminding each subsequent generation of the woman's grace and the unusual bond she shared with the feathery velociraptor. The painting continues to be a source of wonder and inspiration for all who behold it, a testament to the remarkable life of a truly remarkable woman.
Uploaded
February 6th, 2023
Statistics
Viewed 2,645 Times - Last Visitor from New York, NY on 08/17/2023 at 5:55 PM